Property Description
A beautiful luxury villa with style is located about 2 km from the center of Lovran, and consists of a two-storey apartment with a high attic and a studio apartment with a tavern in the basement. So, the house is made on four floors and it's basement, ground floor, attic and floor. The inner stairs lead to the ground floor or the first floor, which has a beautiful large living room with a view of the entire Kvarner and the internal fireplace, a covered terrace and a kitchen and dining area with an exit to the back of the house on the covered terrace with an outdoor summer kitchen.
On the first floor there is also the main entrance and the guest toilet.
The inner stairs lead to the second floor where there are three large bedrooms with a large bathroom and a small terrace. Each room is decorated in a special style and ofarbana in the style of 'psyche of the Venetian' making each room specific and special. The main room of 24 m2 has its own bathroom and toilet, and exit to the covered terrace and from the room it offers a wonderful view of Kvarner and Rijeka. Also from the second floor of the inner staircase leads to the 60 sqm loft where you can choose to make a studio, a library or a small apartment and is currently in the attic large room with library and storage. In the attic are two roof windows and one side. On each floor are beautiful large covered balconies with magnificent views of the sea, Rijeka and Kvarner Bay.
In the basement there is a tavern with a fireplace in the old style, bathroom and boiler room. The studio apartment is located on the ground floor of the house and consists of a living room with a bedroom consisting of one unit, kitchen and dining room and bathroom of total surface 80 m2. It is decorated in a rustic style, from old brick, beams and stone making it a pleasant ambience for relaxation. The house has its own boiler room for central heating that can be gas or solid fuel, which warms the whole house and hot water.
The heating is centrally located on the ground floor with radiators, on the first floor and bathrooms at floor level, and in the rooms and the attic radiators. The house is fully air-conditioned, so it can be heated on air conditioning in winter, and in summer every pleasant evening breeze breezes and provides comfortable sleeping all night.
In front of the house there is parking space for two vehicles, ie one garage and one parking space. The fence around the house is made of stone and greenery, and the culmination of pleasure in this villa offers a swimming pool and a sunbathing area around it, a jacuzzi and a large outdoor grill located on the top of the terraces above the villa where you can enjoy the company in excellent grills and a wonderful view on the entire Kvarner.
The house is located in a quiet location surrounded by greenery and greenery.
The villa has been in the function of tourism for 5 years, has a categorization solution and successfully operates the rent that can be rented as a whole house or a separate apartment per apartment, so this is a good opportunity for an excellent investment in real estate because the house itself pays for itself and amortizes itself .
Various Features:
Indoor/outdoor tavern
Sea View
Heating:
Central Heating
Floor-level Central Heating
Floor Heating
Gas
Electricity
Air Conditioning
Utilities:
Gas Line
Water
Electricity
Interested in this Property?
Please send us a non-binding inquiry for this property and we will answer you as soon as possible. If you are interested in visiting this real estate, please suggest the date and time that would suit you. You can also give us your non-binding offer for this property.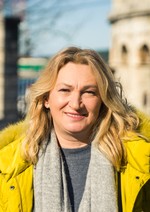 Assigned Agent
02 Danijela Milotić
Agent
+385 97 774 4467
dani@croatia-rebecca.com