Property Description
Houses are sold as a whole.

The house (in the ground floor marked "B") was built in 1911 (60 cm thick walls) of high quality stone in a typically Istrian style. It has four rooms, a hallway, a bathroom, a living room that can be used for living space. Below the entire house is a tavern. The house has a beautiful typical Istrian baladur and cistern. The house has its own entrance. Net useful area of ​​219,01 m2. The house belongs to 52 m2 of yard.

The new part of the house was upgraded to this part of the house in 1975 (in the ground floor marked "A"). On the first floor is an entrance hall, a large bathroom, a living room and two bedrooms with separate baths. The new part of the house has a separate entrance and a terrace. On the ground floor there is a kitchen with a blast, a boiler room with gas and wood burning boiler, garage. Net useful surface of 145.00 m2. In the yard there is an economical building for adaptation of a usable area of ​​121 m2.
In the yard there is an economic building for a net adaptation of 121 m2 that is sold at house "A"
Real estate is divided and sold individually.
The houses are connected to a whole interior door, it is also possible to reburn it again.
Houses are in series with neighboring houses.
The plot is 669 m2 for the whole parcel. The house has central heating with heating oil and wood. Electricity and water are common.
Distance from the Town Center:
7 000 m
Various Features:
Garden
Terrace
Additional rooms
Heating:
Central Heating
Other solid fuels
Fuel Oil
Utilities:
Gas Line
Water
Electricity
Chimney
Interested in this Property?
Please send us a non-binding inquiry for this property and we will answer you as soon as possible. If you are interested in visiting this real estate, please suggest the date and time that would suit you. You can also give us your non-binding offer for this property.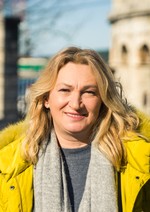 Assigned Agent
04 Danijela Milotić
Agent
+385 97 774 4467
dani@croatia-rebecca.com