Property Description
Beautifully decorated detached house for sale in Valbandon. The plot is 600m2 and the house has 200m2 of living space.
It consists of ground floor: apartment 100 m2 - kitchen, living room, 3 bedrooms, 3 bathrooms, hallway, terrace.
Floor: kitchen, living room, 2 bedrooms, 1 bathroom, 1 toilet, large balcony and large terrace.
The house is renovated, air conditioning, on the floor is a roasted oven.
The courtyard is nicely decorated with flowers and fruit trees, behind the house is a garage with a large canopy. There are also water wells for watering grass, flowers.
He has all the infrastructure. The sea is about 400m away.
It is currently in the function of tourism.
Distance from the Sea:
400 m
Various Features:
Balcony
Terrace
Landscaped garden
Heating:
Other solid fuels
Air Conditioning
Utilities:
Gas Line
Water
Electricity
DSL/Internet
Chimney
Interested in this Property?
Please send us a non-binding inquiry for this property and we will answer you as soon as possible. If you are interested in visiting this real estate, please suggest the date and time that would suit you. You can also give us your non-binding offer for this property.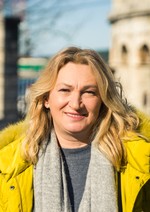 Assigned Agent
02 Danijela Milotić
Agent
+385 97 774 4467
dani@croatia-rebecca.com