Property Description
Detached house for sale with pool of total surface of 530 m2.
The house is located on the basement, ground floor, interiors, first floor and mansard.
In the basement is a beautifully decorated tavern with fireplace, boiler room and
larger store. The ground floor consists of a large living room with
a fireplace, a kitchen with a dining room, a bathroom, a mini laundry and a terrace
two bedroom apartments and a separate entrance.
The interiors include a bedroom, a living room and a large covered terrace. While
are on the first floor two bedrooms, bathroom, gallery, terrace and the other
a bedroom and a large terrace.
The land of 700 m2 is full of well-groomed greenery and ornamental plants as well
gives a special charm and privacy.
The house is very tasteful and luxuriously decorated to the finest details, equipped
expensive furniture that partially remains.

GIK-195
Various Features:
Pool
Garden
Balcony
Terrace
Summer kitchen
Basement
Indoor/outdoor tavern
Garden shed
Pantry
Storage
Surveillance System
Internet
Satellite TV
PVC joinery
Aluminium joinery
Wooden joinery
Additional rooms
Separate toilet
Barbercue
Fireplace
Landscaped garden
Heating:
Central Heating
Electricity
Fuel Oil
Air Conditioning
Fireplace
Utilities:
Water
Sewer
Electricity
Phone Line
DSL/Internet
Chimney
Interested in this Property?
Please send us a non-binding inquiry for this property and we will answer you as soon as possible. If you are interested in visiting this real estate, please suggest the date and time that would suit you. You can also give us your non-binding offer for this property.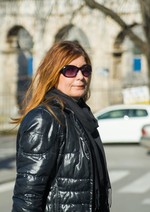 Assigned Agent
01 Gordana Popović
Voditeljica poslovnice
+385 97 666 8173
goga@croatia-rebecca.com