Property Description
832/5000
Detached house for sale in Sisan with four apartments and
it is entirely storeyed. On the ground floor there are two one bedroom apartments
of 38 m2 and a two bedroom apartment of 96 m2 while upstairs is a three bedroom apartment
of 128 m2. The apartments consist of a bedroom, a living room
living room with kitchen, bathroom, hallway and terrace of 10 m2. Apartment
of 96 m2 has two bedrooms, living room with kitchen and
dining room bathroom, hallway and large terrace. And the apartment on the first
floor of 128 m2 consists of three bedrooms (one on the gallery),
comfortable living room with kitchen and dining area, two
bathrooms, hallways, pantry and large terraces as well as a ground floor apartment.
The house has a garden of 2500 m2, of which 1500 m2
construction land currently planted with about 30 olive trees.
Behind the house is a spacious yard with a garden cottage where it is
pool construction possible.
Area Outside:
2 500,00 m2
Distance from the Sea:
3 000 m
Various Features:
Garden
Terrace
Pantry
Storage
Heating:
Central Heating
Electricity
Air Conditioning
Utilities:
Gas Line
Water
Septic Tank
Electricity
Chimney
Interested in this Property?
Please send us a non-binding inquiry for this property and we will answer you as soon as possible. If you are interested in visiting this real estate, please suggest the date and time that would suit you. You can also give us your non-binding offer for this property.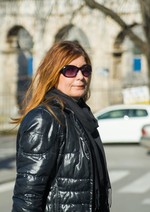 Assigned Agent
01 Gordana Popović
Voditeljica poslovnice
+385 97 666 8173
goga@croatia-rebecca.com