Property Description
A residential and commercial building with a swimming pool in Peroj with a living area of 655 m2 on a plot of 1000 m2 is for sale. It consists of a basement, ground floor, first and second floor
second floor. On the ground floor there are two apartments with two bedrooms, living room, kitchen, dining room, bathroom and terraces with sea view. In addition, in the ground floor there is a reception and a restaurant with a kitchen. The facility has 8 apartments and is categorized as 3* and is rented throughout the year. The pool has heating and is heated by a solar collector for hot water. Secured parking with a large number of parking spaces. Distance from the sea and beautifully decorated beaches is 600 m.
Area esterna:
1 000,00 m2
Distanza dal centro citta':
200 m
Riscaldamento:
Riscaldamento centralizzato
Pellet
Aria condizionata
Utenze:
Acqua
Elettricita'
Linea telefonica
Interested in this Property?
Please send us a non-binding inquiry for this property and we will answer you as soon as possible. If you are interested in visiting this real estate, please suggest the date and time that would suit you. You can also give us your non-binding offer for this property.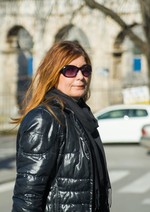 Assigned Agent
01 Gordana Popović
Voditeljica poslovnice
+385 97 666 8173
goga@croatia-rebecca.com