Property Description
Detached stone Istrian holiday house for sale
renovated and arranged in 2019. It consists of seven
bedrooms, four living rooms, four kitchens and
four bathrooms. Next to the house is a comfortable two-bedroom
apartment as well as a comfortable studio apartment. In addition to accommodation
space there is a restaurant of 200 m2 and a large gym hall of
100 m2. Garden with a pool of 60 m2 very nice
is decorated with flowers and greenery while the part by the pool is paved and
arranged as a sun deck with deck chairs. The property is categorized
sa4 * as a highly comfortable object.
Distance from the sea is 2000 m.
Area Outside:
1 200,00 m2
Distance from the Sea:
2 000 m
Various Features:
Pool
Terrace
Indoor/outdoor tavern
Heating:
Wood pellets
Air Conditioning
Fireplace
Utilities:
Water
Electricity
Chimney
Interested in this Property?
Please send us a non-binding inquiry for this property and we will answer you as soon as possible. If you are interested in visiting this real estate, please suggest the date and time that would suit you. You can also give us your non-binding offer for this property.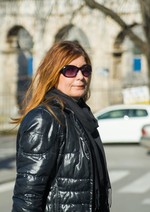 Assigned Agent
01 Gordana Popović
Voditeljica poslovnice
+385 97 666 8173
goga@croatia-rebecca.com